Build Snowman In Farmville ! when you open farmville today you will see a pop up with to put snowman on your farm 🙂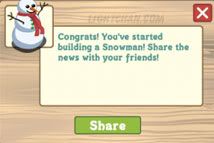 farmville snowman
congrats! you've started building a snowman ! share the news with your friends
Visit your friend's farm and start a farmville snowball fight ! when your friend throws a snowball back at you, collect them to build a magical snowman.
Remember, the more snow balls you throw, the more likely you are to get a snowball thrown back ! Visit your friend's farm today and let the snow frenzy begin !
inside farmville snowman there's a level that you must complete, and each level have a different materials requirement :
– pile of snow
– smilling snowman : 10 pile of snow + 1 snowman scarf
– deeper snowman : 5 pile of snow + snowman button
– dancing snowman : 2 piles of snow + 1 magic hat

you can use farmville snowman links to build faster with friends help 🙂
And if you're done you can harvest snowman ! Once a day you'll also be able to harvest the Snowman for Watering Cans—the higher the tier, the more Watering Cans you can get out of it.
Incoming search terms for the article:
snowman in farmville
snowman farmville
farmville snowman
farmville snowman links
snowman on farmville
farmville snowman button
how to build a snowman in farmville
snowman button FarmVille
farmville snowman buttons
Farmville Dancing snowman