Cafe World Free 6 Pack Instant Spice from Frontierville ! there's a cross promotion for cafe world and frontierville that can give you reward free 6 pack of instant spice
if you don't know what instant spice is look on your spice rack


Instant Thyme – make a dish instantly ready
to use it just use spice button and click any dishes, and it will be instantly ready 🙂 all you need to do is finish cafe world spice quest in frontierville
when you enter cafe world today you will see this pop up :
Free 6-Pack Of Instant Spice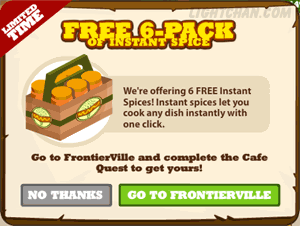 we're offering 6 free instant spices ! instant spices let you cook any dish instantly with one click.
go to frontierville and complete the cafe quest to get yours !
click go to frontierville button
more about cafe world quest in frontierville you can see it in frontierville cafe world quest
The Cafe World Quest I
1. Clear Five Grass
2. Plant Ten Tomatoes
3. Harvest Ten Tomatoes
after you finish click claim and back to cafe world, you will see another pop up :
congratulations !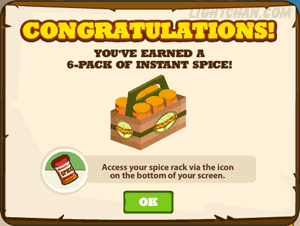 you've earned a 6-pack of instant spice !
access your spice rack via the icon on the bottom of your screen 😀
Incoming search terms for the article:
cafe world free spices
free cafe world spices
free spices for cafe world
cafe world instant thyme
free spices cafe world
cafe world free instant thyme
cafe world free spice
free instant thyme cafe world
cafe world instant thyme link
free spice cafe world