Help Basil Baker and win a 8x Mega stove! Complete the Cafe World 7 Course Meal Goals to earn great rewards !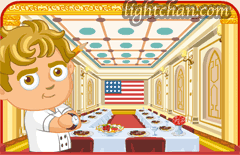 Paris cinema festival ! experience the reel deal in the city of light and love !
Basil baker is taking you on a global culinary adventure !
Create lavish 7-course meals for 7 exotic events. Customize the menu by choosing 1 dish for each course. Note that cook times for dishes in the same course are the same.
Complete any 3 events to earn a 4x mega stove. It will be upgraded to a 6x mega stove after 5 successful events. Complete all 7 events to upgrade your stove to an 8x mega stove and earn a captain counter space statue !
here's the official guide from zynga support :
You will help Basil every day during the Event to cook a 7 course meal
First Course: appetizer
Second Course: soup
Third Course: salad
Fourth Course: sorbet to cleanse the palate
Fifth course: meat, such as poultry (Entree 1)
Sixth Course: meat, red meat or fish (Entree 2)
Seventh Course: dessert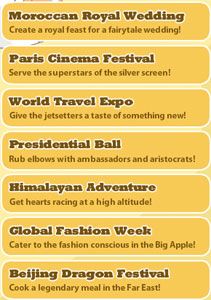 moroccan royal wedding : create a royal feast for a fairytale wedding
paris cinema festival : serve the superstar of the silver screen
world travel expo : give the jetsetters a taste of something new
presidential ball : rub elbows with ambassadors and aristocrats
himalayan adventure : get hearts racing at a hight altitude
global fashion week : cater to the fashion conscious in the big apple
beijing dragon festival : cook a legendary meal in the far east
What will my reward be for helping out Basil?
You will get rewards (dishes, spices, coins and XP) for each Event you complete. If you complete 3 of the 7 Events you will be rewarded with a 4x Mega Stove. For completing 5 of the 7 Events your 4x Mega will upgrade to a 6x Mega and if you complete all 7 courses for each Event you will be rewarded with an 8x Mega Stove.
How long will 7 course meal be running?
You will have 9 days to complete the 7 Events.
Besides cooking the dishes, how will I be helping Basil?
Basil needs your help to decide which dishes he will serve each day. Basil will present you with 2 different dishes for each course and it is your choice which dish you will cook.
When do I select which dishes I will cook for an Event?
You will have to select the dishes once you enter an Event. Once you selected your dishes you cannot change the dish you want to cook.
When will I be able to cook for which Event?
On each day one Event will unlock, however if you served all dishes for the previous Event your next Event will automatically unlock.
Incoming search terms for the article:
cafe world 7 course meal
7 course meal cafe world