Complete 10 cafe world amelia's treats goals to unlock 3 new halloween recipes !
– marshmallow witches
– mummy dogs
– pumpkin lasagna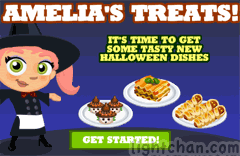 There's a guide for these missions released on cafe world forum ! i will provide you with the gid when the quest released 🙂 and looks like the cauldron from cafe world halloween 2011 sneak peek name is halloween candy bowl !
tips :
The rewards for these mission is not only new dishes, but also halloween ingredients. In some task you will need to serve taste lab dish with these ingredient
how to get trick or treat candy in cafe world :
find the candy from trick or treat friends on halloween candy bowl, this also requirements in some goal (total 43 candies)


then you can hand out trick or treat candy by the candy balloons that appear over your customers
halloween 2011 quests requirements and rewards :
amelia's treat 1 goal
– place pumpkin tree (use gid in cafe world pumpkin tree links to finish faster)
– serve caramel apples 25 times
– ask for 2 trick or treat bags
reward : marshmallow witches recipe
amelia's treat 2 goal
– serve marshmallow witches 30 times
– get 5 trick or treat candy
– ask for 8 candy bars
rewards : bat meat + bones (halloween ingredients)
amelia's treat 3 goal
– serve a taste lab dish with bones (reward from part 2)
– place your halloween candy bowl
– ask for 10 candy corns
amelia's treat 4 goal
– serve pumpkin pie 50 times
– get 8 trick or treat candy
– serve marshmallow witches 30 times
reward : pumpkin seeds (ingredient)
amelia's treat 5 goal
– serve jammin' jelly donuts 50 times
– serve 30 bacon and eggs
– get 12 halloween lollipops
reward : cursed cumin (ingredient)
amelia's treat 6 goal
– serve a taste lab dish with pumpkin seeds (reward from part 4)
– get 10 trick or treat candy
– ask for 12 bubblegum
reward : mummy dogs recipe
amelia's treat 7 goal
– serve mummy dogs 40 times
– ask for 8 fairy wands
– ask for 8 bubblegum
reward : spiders (ingrendient)
amelia's treat 8 goal
– serve belgian waffles 100 times
– get 20 trick or treat candy
– ask for 7 flashslights
reward : celery brooms (ingredient)
amelia's treat 9 goal
– serve a taste lab dish with spiders
– ask for 10 fresh apples
– ask for 10 glow sticks
rewards : 1000 coins + 1000 CP
amelia's treat 10 goal
– serve choco-scotch clusters 50 times
– complete the pumpkin tree
– ask for 10 animal masks
reward : pumpkin lasagna recipe
thx to di for
FOOD GIDS :
Marshmallow Witches 4252
Mummy Dogs 4253
Pumpkin Lasagna 4254
GID CODES FOR ITEMS:
4271 Trick Treat Candy
4272 Candy Corn
4273 Trick Treat Bags
4274 Candy Bars
4275 Halloween Lollipops
4276 Bubblegum
4277 Fairy Wand
4278 Flashlights
4279 Fresh Apples
4280 Glow Sticks
4281 Animal Masks
Incoming search terms for the article:
cafe world amelias treats
cafe world pumpkin lasagna
cafe world amelia\s treats
amelias treats cafe world
amelias treats
cafe world pumpkin seeds
Amelia\s Treats
cafe world amelia
cafe world amelia treats
amelia\s treats cafe world