Cook with Amelia and earn AMAZING REWARDS by just completing a few SIMPLE TASKS start with cafe world back to basics goals !!!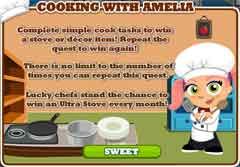 Cooking with amelia ! complete simple cook tasks to win a stove or decor item ! repeat the quest to win again !
there is no limit to the number of times you can repeat this quest
lucky chefs stand the chance to win an ultra stove every month !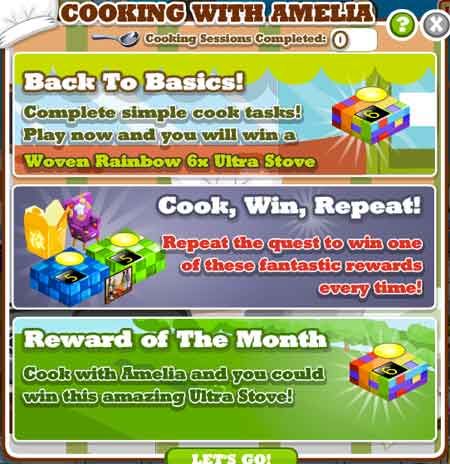 Goal 1: Back to Basics
Goal 2: In-Greedy-ents
Goal 3: Flailing Knives
here's the dishes are random, here's the list by timetrap01 :
1: 5 BBQ Corn (1 h) / 5 Tikka Masala Kabobs (1 h) / 5 Fiery Fish Tacos (2 h)
2: 5 Four Bean Chili (4 h) / 5 Kitchen Sink Sundae (4 h) / 5 Asparagus Quiches (6 h)
3. 10 Winter Melon Soup (8 h) / 10 Singapore Rice Noodles (8 h) / 10 Festive Pretzels (10 h)
4. 10 Steak and Kidney Pie (8 h) / 10 Hot Milk Cake (10 h) / 10 Warm Chicken Nicoise (12 h)
5. 10 Shrimp Fajitas (10 h) / 10 Patty Melts (12 h) / 10 Broken Glass Rings (14 h)
Incoming search terms for the article:
cafe world back to basics