Did you notice the Rafael the lumberjack from Zynga's newest game CastleVille in your cafe ? yes this is a new cross promo that can give you reward a cafe world castleville special bonus promotion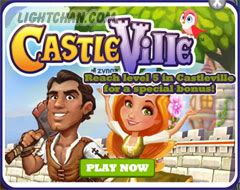 Many players said that castleVille is really fun so far, it runs smoothly, short loading times, nice graphics, nice missions and really a lot to explore
just like other cross promotion, you only need to reach level 5 in castleville for a special bonus ! first click the rafael 'castleville' icon then play now :


after you got into lv 5 go back to cafe world to claim your prizes 🙂
tips : how to level up faster in castleville just finish some castleville quest to get big XP
what special bonus rewards do you get from castleville promotion in cafe world ?
free 10 cafe cash
free castleville lightning stove – cost : 45 cafe cash


this green dragon looking stove can give you 10% faster of cooking
palisade cake recipe


Palisade Cake looks like the Angel Fruit Cake
note : if you don't received any prize rewards, try to refresh cafe world over and over before you check into your cash, stove, and recipe.
Incoming search terms for the article:
castleville bonus
bonus castleville
castleville bonus checker
castle ville bonus
castleville bonuses
palisade cake cafe world
cafe world palisade cake
palisade cake
palisade cakes cafe world
cafe world palisade cakes