Help prepare a fantastic tropical feast in cafe world cater the rainforest expedition catering order !


espresso joe and lisa latte are exploring the brazilian rainforest ! cater a feast to match the majesty of the rainforest !
earn 3 stars and they'll reward you with the recipe for acaraje !
cater the rainforest expedition catering order
serve voodoo chicken salad 999 times
serve tuscan chicken 799 times
serve snowflake cake 499 times
collect 15 canoe paddle
collect 12 zip line
collect 15 toucan
catering mission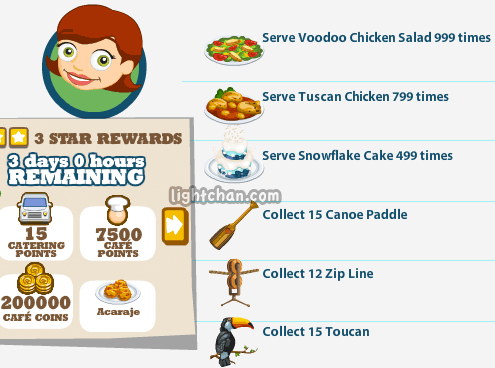 3 star rewards (3 days)
15 catering points
7500 cafe points
2000000 cafe coins
acaraje recipe
Incoming search terms for the article:
cafe world tuscan chicken