Do you notice any new feature in cafe world ? look on your gift box icon and try to hover it, you will see a new tooltip social : chefs circle, gifts

however when you click it there's no chef's circle option, it changed into social with one of your neighbor's photo
cafe world social icon

and when i tried to find out what is chefs circle by clicking social button, it only pop to special delivery box for friends ??
i look on the forum, and here's what Pinky Chefcadero the Community Manager said about Chef Circle :
Hiya Chefs! We're releasing a new feature called Chef Circle in the coming weeks. We are hoping it will be super helpful to everyone who loves to play Café World. It's going to give you a way to interact with more people who are as interested in playing Café World as you are!
Right now, you will see an icon in the corner that says "Chef's Circle." It may even ask you to send Special Deliveries. Well, guess what, this isn't what Chef Circle will do when we actually mean to release it and this is a bug. Oops! You aren't supposed to see that icon, so let's just say this is a "Sneak Peak."
I hope this isn't too confusing!
Stay tuned!
update : there's already chefs circle guide from zynga blog 🙂
How Chefs Circle Works!
The Chefs Circle feature will pick a quest to start working on together.
You will see your progress and the team's progress.
The first person to finish the quest will receive the crown! (stars around your picture) After the team finishes, everyone receives the prize shown and you will see an announcement. Then you will move onto the next quest.
Help!
To help your circle, choose "Help" above their image to send them something they need for that quest. This item is a random item they need for that quest. If they have finished that quest, they will receive a special delivery.
You may help each player once a day.
If the players in the Chefs Circle don't play for (5 days), they will have "zzz" under their image. You may click the "Wake up!" button to send an email to get them back in the game. (You will not see their email. The email will be sent through the game. Email addresses are not visible to other players through Chefs Circle.)
Chat!
You can chat with your Chefs Circle in the Chefs Circle control panel. Ask for help, share tips or completion!
Click in the lower part of the chat window to send a message to your Chefs Circle.
Will any of my private information be shared to non-neighbors ?
The Chefs Circle feature shows only your first name and your profile picture. Your personal information will not be available to other players within Chefs Circle, unless you choose to add them as a Facebook Friend. When you are only on a team in Chefs Circle, your team members will have a round frame around their profile picture, denoting they are only in your Chefs Circle, not real friends. You can visit their café, but you cannot send them feeds or requests unless you choose to add them as a friend.
What happens if I have already completed the Chefs Circle goal ?
It is possible that you may have already completed the chosen quest previously. If that's the case, you will be awarded a crown for completing the quest first. At this point, you can help your crew finish the quest. Once everyone has completed the quest, everyone will receive a reward.
What happens when I have inactive Chefs Circle members ?
If one of your Chefs Circle members falls asleep, you will see ZZZ's by their image. You can then wake them up, but if that player is inactive for an extended period of time, they will be removed from your Chefs Circle and another member will be automatically added to your Circle.
if someone that can access chefs circle would like to friend you, you will see this pop up :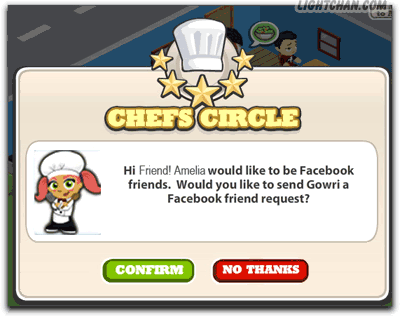 chefs circle friend request
you will see amelia in your cafe with a Chefs Circle logo above her head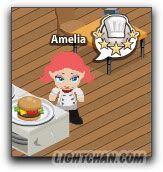 want to team up with other chefs ?
join a chefs circle and work with other cafe players to achieve your goals ! chefs circle friends will only be able to see your first name and profile picture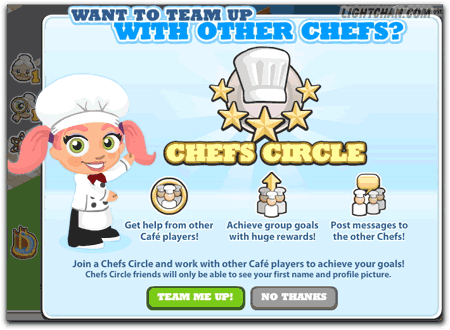 – get help from other cafe players
– achieve group goals with huge rewards !
– post messages to the other chefs!
choose "team me up!" or "no thanks"
you will receive chefs circle chalkboard
this item will notify you whenever there is new information for your chefs circle!

when your chefs circle ready you will see
this pop up :


your chefs circle friends are now your neighbors!
you can visit their cafes, spice their dishes, and help them complete challenges!
or this pop up :
your chefs circle is still forming and will be available shortly!


you can see how many chefs have joined your circle
you can see chefs circle tutorial in cafe world :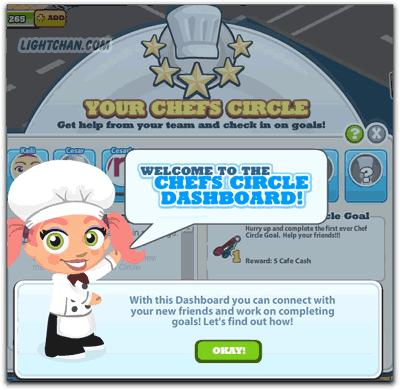 chefs circle dashboard
with this dashboard you can connect with your new friends and work on completing goals
along the top are the chef cards for your new team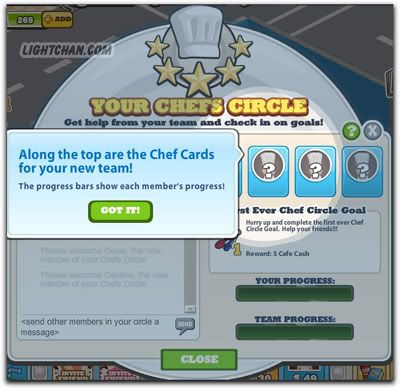 the progress bars show each member's progress

you can send them items, remind them of the goals if they fall asleep on the job and even ask them if they want to be facebook friends!
first ever chef circle goal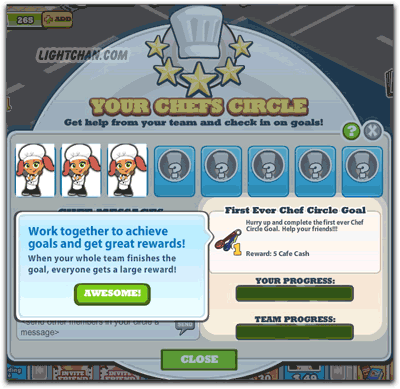 work together to achieve goals and get great rewards
when your whole team finishes the goal, everyone gets a large reward
chef messages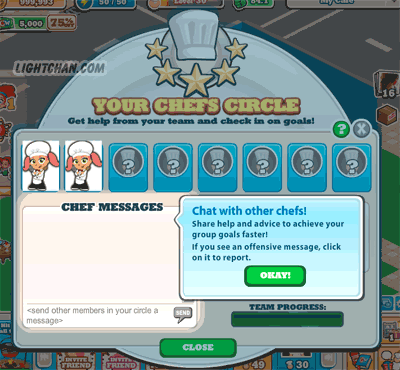 chat with other chefs
share help and advice to achieve your group goals faster!
you can leave chefs circle anytime, once you leave you cannot rejoin that specific Chefs Circle, but you could join a new Chefs Circle. You may not handpick your Chefs Circle.
Incoming search terms for the article:
cafe world chefs circle
cafe world chef circle
chefs circle cafe world
chef circle cafe world
chef\s circle cafe world
cafe world chef\s circle
chefs circle
cafe world circle of chefs
cafeworld chefs circle
what is chefs circle in cafe world