Cafe World Cooking Mastery Cookbook !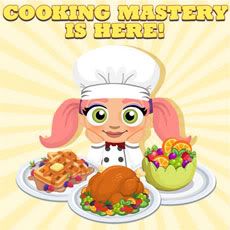 cafe world mastery
cooking mastery is here ! become a master chef
perfect your menu
power up dishes
designer plates
speciality cookbooks
With the new Mastery Cookbooks, you're on your way to becoming a master chef! You'll still see many of your favorite dishes, but with more rewards than ever.
how to get mastery points for cookbook mastery on cafe world ?
Every time you cook a dish, you will earn another Mastery point. When you earn Mastery points, you permanently become better at cooking that dish! Read more for further information…
When you are playing your game, you may click the "i" icon in the upper right corner of your cookbook for more information anytime.

Let's check out the new features!
Your cookbook has some old favorites, but now you have more rewards from every dish! The icon in the corner of each dish panel will show if the item is from a certain country or is a certain food type.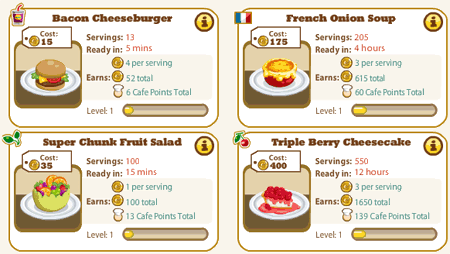 If you look at the individual dish, you'll see how many servings you receive, it's cook time, the coins you receive per serving and for the whole dish as well as the total Café points received.
If you click the "i" icon in the corner of the dish, you will be brought to another screen. This screen tells you the level you have mastered in that dish, the times you've cooked the item and you have an opportunity to ask your friends to help you earn more Mastery!

you can see the total number of times cooked and times cooked until next level 🙂
click ask then it will post on your wall that tells your friends if you needs help to become a master
if your friend click get a mastery boost they will get reward and get & give mastery boost to you 🙂
How many levels are there per dish is there to unlock ?
there are 3 levels mastery
you can see the changed in dish plate for each level
Level 1 Light blue / white plate
Level 2 Dark blue plate
Level 3 Gold plate
when you level up you will see this pop up :


certificate of mastery ! you completed level 1 of mastery of chinese candy box !
you can now serve the dish in a designer plate and get more servings each time you cook it !
each level have different bonus :
level 1 – get more servings and a designer plate
level 2 – get more cafe points and a designer plate
level 3 – cook faster and get a designer plate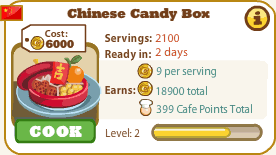 chinese candy box level 2 😀
get your dish mastered and prepare for specialty cookbooks on cafe world !
Incoming search terms for the article:
cafe world mastery
cafe world mastery boost
cafe world specialty cookbook
cafe world mastery levels
cafe world specialty
mastery boost cafe world
Cafe World Dish Mastery
cafe world cooking academy
cafe world level rewards
mastery cafe world