Cafe World Exotic Ornaments ! one of the parts that you need to collect for holiday tree is exotic ornaments, but this one is different from other parts 😀


exotic ornaments on cafe world
you can get it fast by buy for 8 cafe cash, or you can get it by playing in treasure isle
how to get cafe world exotic ornaments from treasure isle ?
you can click collect button inside the holiday tree in cafe world, and get this pop up :


exotic ornaments await ! no cheap tinsel allowed ! play treasure isle to find the exotic ornaments you need for your holiday tree to thrive
you must click 'play treasure isle' button to go on treasure isle or use this link :
http://apps.facebook.com/treasureisle/index.php?xpromo=xpromo_cafeornaments
in treasure isle you will see a pop up :
welcome treasure hunter !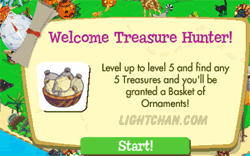 level up to level 5 and find any 5 treasures and you'll be granted a basket of ornaments !
remember that you must see this pop up first before you do the requirements ! if you don't see this pop up try to reload your treasure isle using the same link, after you done find 5 treasures you will see this pop up :
congratulations !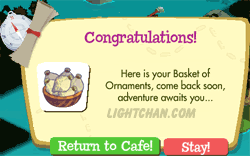 here is your basket of ornaments, come back soon, adventure awats you…
click 'return to cafe' button and you will see another pop up in cafe world
congratulations ! you dug up some exotic ornaments !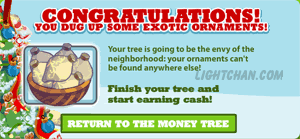 your tree is going to be the envy of the neighborhood : your ornaments can't be found anywhere else !
finish your tree and start earning cash ! click return to the money tree and you will see the exotic ornaments completed 😀
Incoming search terms for the article:
cafe world Exotic Ornaments
Exotic Ornaments
exotic ornaments cafe world
cafe world exotic ornament
exotic ornaments treasure isle
cafe world ornaments
exotic ornament cafe world
treasure isle exotic ornaments
cafe world exotic mixes
how to get exotic ornaments in cafe world