The cafe world fall feast is almost here ! Are you ready?

today you will see amelia preparing turkey dishes and farmer fred with his ingredients before entering cafe world
if i remember correctly the farmer fred is the one who sale ingredients for taste lab right ? so he's not a new npc
The Fall Feast is coming to Café World! here's the picture if you missed it :


amelia and farmer fred need your help to prepare a fantastic feast !
new goals and catering order coming up ? will keep you updated when it released 🙂
update :
The Fall Feast is a multi-part event that includes :
2 new Quests
2 new catering orders
1 new builder
Fantastic Prizes
Why do my friends have the Fall Feast quests and I don't ?
The Fall Feast is being rolled out quickly, there may be a slight delay, but i should be available to all players within a couple hours.
What is the Festive Table ?
The Cafe World Festive Table is the new builder for the Fall Feast Event. You can build or buy the Festive Table. When you ask for Traditional Recipe Cards, the friends who respond will get a seat at your Festive Table.
Why isn't it working when I ask for Traditional Recipe Cards ?
Well, it might be working. A few special notes on these:
You can only ask the same friend every 48 hours, so if you've already asked your friend Fred for a Recipe Card, you'll have to wait two days until you can ask Fred again.
Only unique responses to the asks count. So if you ask Fred and then he does give you the Recipe Card, you can't receive anymore Recipe Cards from Fred.
What is the point of collecting Fall Invites ?
Fall Invites are rewarded for many of the goals. Collecting Fall Invites gives you a better chance of winning Cafe Cash.
fall feast event guide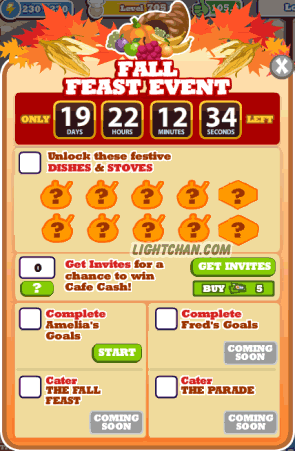 you fave 20 days to :
– unlock festive dishes & stoves
– get invites for a chance to win cafe cash!
– complete amelia's goals + complete fred's goals
– cater the fall feast + the parade
Incoming search terms for the article:
cafe world fall feast
cafe world fall feast event
fall feast cafe world
fall feast event cafe world
the fall feast cafe world
cafe world the fall feast
cafe world fall feast goals
fall feast cafeworld
feed the fall feast cafe world
cafe world feed the fall feast