Grow your own flowers in Cafe World now! Earn new flowers, vases, and even spice rewards by completing Flower Garden quests!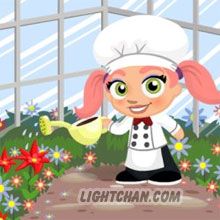 You can even get bonuses by keeping flowers active in your cafe!
Each flowers have different withering times, see the wither time on a flower by hovering over the flower when it is in your cafe. Remember that withering time starts When it's picked.
Flowers Grow Time – Wither Time :
Bird Of Paradise : 9 hours – 18 hours – 24000 coins
Black Orchid : 10 hours – 20 hours – 9000 coins
Daffodil : 1 hour – 2 hours – 2000 coins
Magnolia : 8 hours – 12000 coins
Lilac : 2 hours – 8 hours – 14000 coins
Lily : 1 hour – 2 hours – 1000 coins
Rose : 7 hours – 14 hours – 24000 coins
Sunflower : 2 hours – 4 hours – 4000 coins
Tulip : 2 hour – 4 hours – 5000 coins
White Orchid : 10 hours – 20 hours – 8000 coins
coming soon
Hibiscus
Dahlia