The strong>cafe world food showdown poll in here ! what's your favorite food ?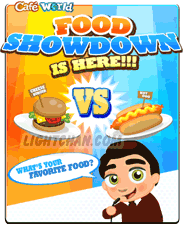 actually there's no information about this event, only a small pop up to poll your friends to find out which food reigns supreme
and cafe world need your permission to help count the votes on your poll to decide on your rewards.. grant permissions and you can post a poll request on wall so your friends can vote
today's showdown : apples or oranges


xxx is trying to find out which food reigns supreme. follow this post to cast your vote
when you 'click to vote' choose post for apples or oranges, and you can let your friends know what you think by leaving some comment
come back tomorrow to claim your reward ! i wonder what reward ?
here's the official rules :
You will be asking your neighbors to vote for their take on these age-old questions by posting feeds on their walls. When you gather votes AND vote on your friend's polls, you will receive a point! The more you interact with these special feed posts, the better your chances at great prizes!
How food showdown works in cafe world :
– Each unique friend that votes on your poll counts as one point and each vote you cast on your friend's poll also counts as a point.
– vote on a maximum of 3 of your friend's polls per day.
– At the end of the poll, votes will be tallied and you'll find out what cuisine wins and what you've won.
– Votes will count if you click the "CLICK TO VOTE" link and cast your vote or comment on the feed post.
– A new poll comes up every 24 hours
Incoming search terms for the article:
cafe world Food Showdown
food showdown cafe world
chef showdown cafe world
cafe world chef showdown