New loading pic just came out today : cafe world foodini is here !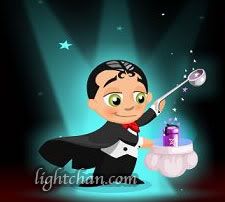 usually they put 'is coming' first before the 'is here', maybe some mistake ?
because the event for joe and lisa's new arrival is not finish yet, though some players already finished the main goals

I bet this is the next one coming up after the baby event ends, and may be timed as well 😐
update :
it's foodini's magic jar ! no goals just new feature 🙂


Magic can be random ! You could get a pro, amateur or novice magical cooking item from the magic jars. Open more jars to increase your chances of getting a pro item.
you can purchase :
1 magic jar = 50 cafe cash
3 magic jars = 140 cafe cash

you'll get chance to get these foodini's magic jar rewards :
novice : x20 twelvehour thyme, x20 instant thyme, x50 intant thyme
amateur : x20 quest buster, x 20 mastery maestro
pro : foodini's 4x ultra stove
Incoming search terms for the article:
cafe world foodini
foodini cafe world