Earn 3 stars for each cafe world french stove catering order to unlock new dishes !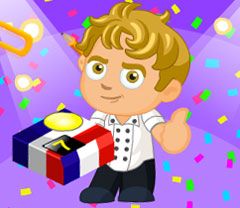 here's the story :
basil's showing off the french 7x stove on his international tv show, cater for the crew !
basil's whipping up goodies on the french 7x stove with finesse ! cater for the participants !
top chefs are battling it out to win basil's exclusive french 7x stove ! cater for the audience !
select the orders from these catering campaign :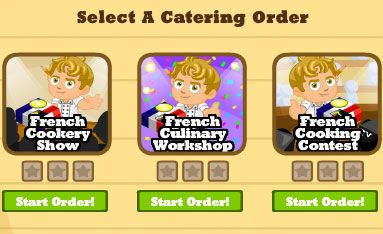 french cookery show catering order
serve crab mango salad 799 times
serve ginger butter prawns 699 times
serve lime striped hype 599 times
collect 20 drink umbrellas
collect 28 tiki cups
collect 24 tiki torches
rewards : pork belly roast recipe
french culinary workshop catering order
serve black tie cookies 699 times
serve seafood paella 799 times
serve double cheese melt 899 times
collect 20 citronella candles
collect 28 grass skirts
collect 24 orchid leis
rewards : carbonated fruits recipe
french cooking contest catering order
serve vampire staked steak 699 times
serve chocolate faberge egg 599 times
serve gem cake 799 times
collect 20 portable grills
collect 28 seashell centerpieces
collect 24 bags of charcoal
reward : tomato spaghetto recipe