Finally we will see cafe world goal manager soon 🙂 after a lot of players complaining that we can't see all the goals when we have a lot of quest and it's hidden, now zynga show us that they still care for cafe world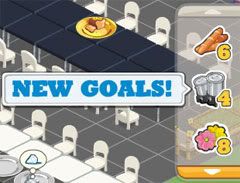 pic : okekeca goal manager
here's the announcement from Bobby Filet – Community Specialist on cafe world forum :
The Goal Manager is here!
Hiya Chefs!
As some of you have already noticed, we're beginning to roll out our newest feature – a way to manage your goals!!!
We're releasing it slowly, so please be patient bear with us as it will take about 24 hours for everyone to see it in their cafés.
We're so excited and hope you all like it!
Happy Cooking!
Chef Bobby Filet
Incoming search terms for the article:
WORLD GOAL PICTURES
cafe world goal manager
cafe world goals