Are you ready to match the dishes to the stoves? Play cafe world gourmet blitz and win fantastic new rewards !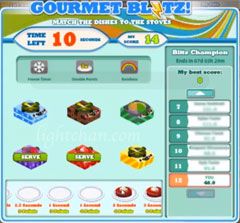 you can play the mini game gourmet blitz by clicking the right icon (chef's hat)
What is Gourmet Blitz?
Gourmet Blitz is a mini game in which you can compete with your friends and along the way unlock new amazing dishes.
How does Gourmet Blitz work ?
You have 6 different colored stoves that can be used to cook dishes with different cook times and points.
The dishes will scroll past and you click on them to place them on a free stove, with matching color.
Once the dish is cooked you need to serve the dish before its clock runs out to earn points.
But be careful, if you click on a dish whose corresponding stove is already occupied, you will lose points.
and when the time is over you can extend timer by 5 seconds with 3 cafe cash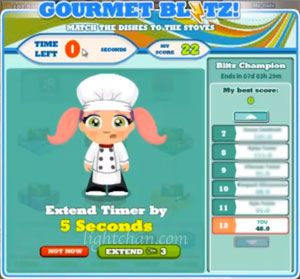 when you're done you'll get the gourmet points to buy the power up !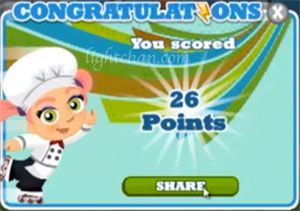 What is my reward in Gourmet Blitz ?
There are 6 different rewards up for grabs.
Prized Pie – Score a total of 5000 points in your games to unlock this dish
Conquest Crepes – Score a total of 10000 points to unlock this dish
Blue Ribbon Rolls – Score 100 points in 5 games consecutive games
Gold Medal Muffins – Score 120 points 4 times in a row
Champion Custard Cups – Unlock this dish with 3 consecutive games of 140 points or more
Foosball Table – Win this decoration by finishing on the top of the leaderboard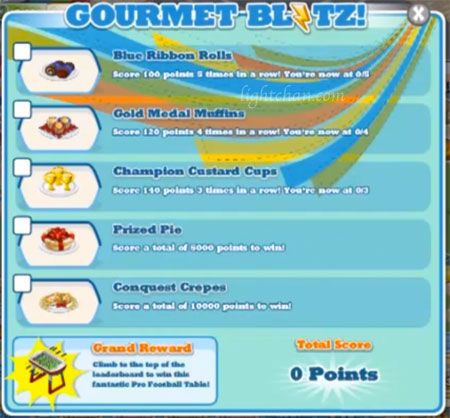 What are the power – ups ?
Freeze – freezes the timer for 6 seconds for you to gain more points
Rainbow – place any dish of any color on any free stove for 6 seconds
Double points – earn double points for each served dish for 6 seconds


choose your power ups ! pick 3 power-ups to blitz through the game
What happens if I do not activate the power–ups I selected for a round?
If you do not click on one or more of the power – ups you selected for a round they will activate automatically before the end of your round.
How do I activate my power–ups?
Simply click on the power–up you want to use at any point during the chosen round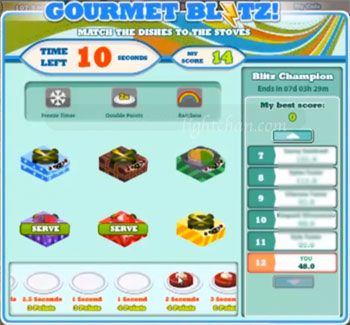 How does the leaderboard work ?
The leaderboard shows your position among your friends, finish at the top position to win the Foosball Table.
Do I have to have a minimum amount of friends to participate in the leaderboard?
You will need at least 1 friend.
Is there a level requirement ?
Yes, you have to be level 15 or over to play Gourmet Blitz.