Cafe world haiti relief fund. Just like farmville relief fund for haiti, cafe world is trying to help haiti too 🙂

you can see the help haiti button today on cafe world 🙂
Hiya chefs, the Café World Team is joining with Zynga.org to aid the relief effort in Haiti. We have placed a button in game directing you to our donation page or you can visit through the following link. 100% of the proceeds go to benefit Haitian relief.
Haiti Relief Fund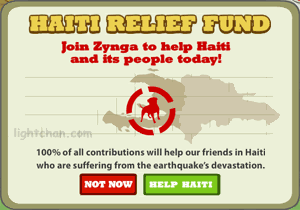 Join zynga to help haiti and its people today!
100% of all contributions will help our friends in Haiti who are suffering from the earthquake's devastation.