New cross promotion between cafe world and hidden chronicles ! today you'll see this pop up when entering your cafe :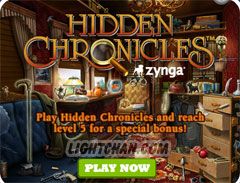 play hidden chronicles and reach level 5 for a special bonus ! if you wondering what is the great prize is, it's a cafe world hidden chronicles 50% lighting stove
if you missed the pop up, try to look a new icon on the right side and click it !


play hidden chronicles to level 5 to get a great prize !
so play this hidden objects game where you must find some items by clicking just like other mystery games 🙂
when you finish level up to lv 5, go back to cafe world and find a new stove !


if you think that his is a 4x stove, it's not..
It looks like it has 4 burners but it's only cooking one dish, this stove is 50%
Incoming search terms for the article:
cafe world hidden chronicles
hidden chronicles cafe world
cafe world hidden chronicles bonus