Cafe World Holiday Dinner Catering Order ! Hiya Chefs! It's time for the Holiday Dinner Catering Order!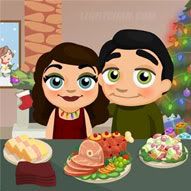 cater your holiday dinner on cafe world
Use the dishes you earned from the Holiday Dinner goals to cater a fabulous Holiday Dinner! Host this year's holiday dinner at your cafe ! Complete the order to win an Elf Workshop for your café! Build your crew today!
you only have 3 days to finish the holiday dinner catering order to get the toy workshop bench, and the bad news is… if you haven't finished cafe world holiday dinner goals you will need help from your friends as crew !
Because you will need to serve the new recipes that you can unlocked from holiday dinner goals reward 🙁
holiday dinner catering order in cafe world :
– serve waldorf salad 127 times
– serve baked ham 138 times
– serve angel slices 63 times
– collect 15 candy canes
– collect 10 gingerbread men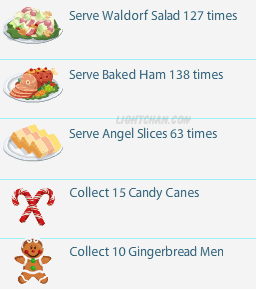 1 star rewards : 2 catering points 2700 CP 60740 coins
2 star rewards : 4 catering points 4500 CP 102150 coins
3 star rewards : 6 catering points 6300 CP 141750 coins + toy workshop bench
Incoming search terms for the article:
Café World Holiday dinner
holiday dinner cafe world
cafe world holiday dinner catering
Cafe World Holiday Dinner catering mission
cafe world holiday dinner catering order
cafe world catering holiday dinner
cafe world angel slices
cafe world cater the dinner
Holiday Dinner Catering
holiday dinner catering cafe world