The proposal part 4 is here ! Finish cafe world holly the hostess goals now, holly is here to help plan Joe and Lisa's engagement party!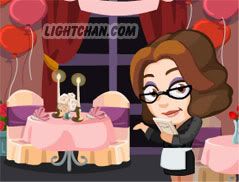 Complete her today to start earning bonus Cafe Points for ALL dishes cooked and served!
plan the engagement party 🙂
help lisa and joe's friends plan the perfect engagement party with the help of the new hostess!
please note that some dishes are random, and if you can.. use the gid to collect items faster because there are a lot of quest to 'ask' items, hope this help and good luck
here are the list of proposal part 4 goals :
part 1 : a holly hello goal
– place the hostess – part links
– serve 12 fiery fish tacos
– collect 7 table mints
part 2 : engaging couple goal
– collect 8 surveys (gid : 4155)
– collect 6 invitations (gid:4142)
– serve 12 tostada de carne asada
part 3 : invites away goal
– collect 8 cured ham (gid:4143)
– serve 20 coffee cakes
– serve 12 chocolate crepes
reward : antipasto recipe (1 hour 6 min)
part 4 : early arrivals goal
– collect 6 decorative table cloth (gid :4144)
– collect 8 silver napkin holders (gid:4145)
– serve antipasto 30 times
part 5 : hey stranger goal
– collect 5 funny stories (gid:4146)
– collect 7 folded name cards (gid:4156)
– master antipasto through level 1
part 6 : strawberry fields goal
– collect 5 sliced almonds (gid:4157)
– collect 8 fresh strawberries (gid:4147)
– serve super chunk fruit salad 25 times
reward : strawberry salad recipe
part 7 : picture perfect goal
– collect 7 drink charms (gid:4148)
– collect 7 camera batteries (gid:4158)
– serve apple cider 18 times
part 8 : el menudo goal
– collect 9 chili powder (gid :4149)
– serve chips and guacamole 30 times
– spice 7 neighbor's stoves
reward : menudo recipes (4 hours 11 min)
part 9 : is this thing on goal
– collect 8 microphones (gid :4150)
– collect 6 written speeches (gid :4151)
– serve 20 egg hunt sugar cookies
part 10 : maine course goal
– serve 12 strawberry napoleons
– master menudo through level 1
– serve fruit punch 16 times
reward : his & her surf n' turf recipe
part 11 : so sweet goal
– collect 9 tubes of frosting (gid :4152)
– collect 7 cupcake holders (gid :4153)
– serve ginger ale 18 times
part 12 : cupcake creation goal
– collect 10 tea leaves (gid : 4154)
– serve 12 triple berry cheesecake
– serve gem cake 12 times
reward : elegant cupcakes recipe (4 hours)
part 13 : elegant goodbye goal
– master elegant cupcake through level 2
– serve chocolate cream pie 20 times
– serve dark roast 12 times
Incoming search terms for the article:
cafe world hostess goals
cafe world hostess
cafe world holly
cafe world a holly hello
cafe world holly goals
a holly hello cafe world
Holly the Hostess
cafe world elegant goodbye
hostess cafe world
cafe world holly hello