Cafe World Irish Stew is one of dish that you must cook for st patricks day goals in cafe world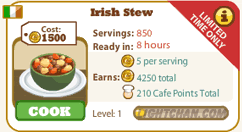 irish stew in cafe world
how to unlock irish stew in cafe world :
to unlock irish stew you must complete cafe world st patty's day goals part 1 : peter's irish wish, then you will see this recipe as reward !
irish stew stats :
cost : 1500 coins
servings : 850
earns : 5 per serving – 450 total
CP : 210 cafe points total
some of the goals that need irish stew in st. patricks day :
on part II : patty's parade – you must cook 10 irish stews
on part VI : song of the isles – you must have 3 different irish stew collection pieces
how to get irish stew collection pieces in cafe world ?
you have to cook irish stew and it gives you pieces of the collection in your collection drawer



you will see this pop up if you get the collection pieces ( cafe world patty's day collection ), find 3 and you're done !
Incoming search terms for the article:
cafe world irish stew
irish stew cafe world
cafe world irish
Cafe World Pot of Gold
pot o gold cafe world
irish stew collection pieces
irish bash cafe world
cafe world pot o gold
cafe world irish stew collection
pot of gold cafe world