Go skydiving with joe in cafe world joe sky dives goals and win a sky 4x ultra stove !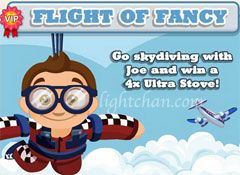 vip quest guide :
Who can play this quest?
The quest "Flight of Fancy" is exclusive for our VIP members. While everyone can see the Icon only VIP members will receive the goals and a chance to earn the main reward.

flight of fancy gid :
9792 Yellow Pages
9793 Strings
9794 Credit Cards
9795 Sketeboards
9796 Bus Tickets
9797 Help Booths
9798 Parachute
9799 Goggles
9800 Tasty Dish
9801 Camera
9802 Videographer
9803 Boarding Ramp
How much time will I have to complete "Flight of Fancy"?
The quest will be available until November 05, 23:59 pm PST.
What will be the reward I can earn?
You will be able to earn an exclusive 4x Ultra Stove for completing the quest as well as dishes throughout the quest.
Where do I find my stove?
Your stove will be added to your inventory once you completed the "Flight of Fancy" quest.