Cafe World Lake Party Picnic Catering Order ! serve some piping hot food at the crystal cool lake !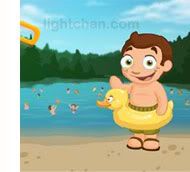 to water-ski, you need someone driving the boat, and to ean a 3-star rating (and a tasty trout recipe), you need yor friends on your catering crew !
we can have 17 crews for this catering mission, but i don't know why they make us to ask 44 request items only for 3 days to get the new recipe ???!!
lake party picnic catering order :
– serve seafood paella 185 times (14 hours)
– serve spicy devil eggs 262 times (18 hours)
– serve sirius sorbet 88 times (30 minutes)
– collect 22 wate skis
– collect 22 inner tubes
3 star rewards (3 days) : 12 catering points + 6300 CP + 7500 coins + nut crusted lake trout
2 star rewards (5 days) :9 Catering Points, 4500 CP, 50000 Cafe Coins
1 star rewards (No Time Limit) :4 Catering Points, 2700 CP, 30000 Cafe Coins
Incoming search terms for the article:
nut crusted lake trout cafe world
cafe world nut crusted lake trout
cafe world lake party picnic
lake party picnic cafe world
lake party picnic
cafe world nut crusted trout
cafe world lake party