Finally cafe world lights camera cook goals is here !Your cafe is the site of a big romance movie shoot !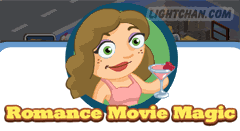 Romance movie magic ?
Hurry ! the movie wraps on wednesday july 20th, that means you must complete these romantic new goals by July 20th to earn exclusive new dishes (romantic brownie sundae) and romantic decorations for your Cookbook!
here are the quest requirements + rewards :
part 1 : lights, camera, cook I
– serve or ask for lox bagel (5)
– serve powdered french toast (5)
– serve buttermilk pancakes (5)
rewards : 4 romantic table
part 2 : lights, camera, cook II
– serve or ask for stuffed mushrooms (25)
– ask for 5 make up boxes
– ask for 5 movie lights
rewards : 4 romantic chair
part 3 : lights, camera, cook III
– serve or ask for vegas buffet (40)
– serve vegetarian tamales (10)
– ask for 15 bitter sweet chocolates (15)
reward : romantic wall light
part 4 : lights, camera, cook IV
– serve or ask for delicious chocolate cake (20)
– ask for 9 all-purpose flour
– ask for 9 movie lights
rewards : 3 romantic wall light
part 5 : lights, camera, cook V
– serve or ask for creme fraiche caviar (50)
– serve or ask for impossible quiche (20)
– ask for 19 bitter sweet chocolates
rewards : romantic brownie sundae recipe
Incoming search terms for the article:
cafe world lights camera cook
lights camera cook cafe world
cafe world movie goals
cafe world lights camera
CAFE WORLD GOALS LIGHTS CAMERA
movie goals cafe world
lights camera cook goals
cafe world lights camera cook goals
lights camera cook
cafe world movie goal