Cafe World Manny's Mobile Meal Catering Order is here! Complete this Catering Order with 3 stars to win the Cassava Cake Recipe!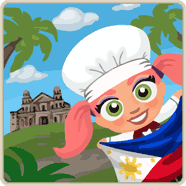 Celebrate two years ! Set up your cooking caravan for a huge filipino feast!
Get 10,000 travel passes the first time you complete this order with a 3-star rating. Only happens once!
mannys mobile meal catering order
– serve lechon 475 times
– serve sisig 45 times
– serve filipino paella 140 times
– collect 12 monster skewers
– collect 16 banana leaves
3 star rewards (3 days) :
– 12 catering points
– 3200 cafe points
– 70000 coins
– cassava cake recipe
catering mission

Incoming search terms for the article:
filipino paella cafe world
cafe world filipino paella
cafe world manny
mannys mobile meal