Second once upon a crime catering mission to complete : cafe world cafe world mixed-up mischief catering order and win new recipes + decorations !

stories :
the pied piper has been turned into a rat ! cater for the people of hamlin as they store food before all the other rats return !
pinocchio has got back his strings and he's no longer a real boy ! cater for the good fairy as she tries to untangle this mess !
what small teeth he has ! cater for the hungry little ball of fluff as the good fairy reverses the big, bad spell !
catering campaign requirements :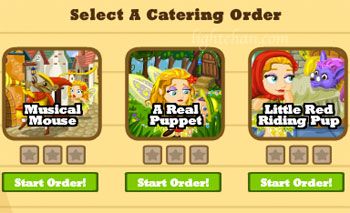 musical mouse catering order
serve bread pudding souffle 699 times
serve rich borscht 599 times
serve zesty celery duck 499 times
collect 15 cheese wheels
collect 15 piper's pipes
collect 12 mouse traps
reward : peaches and cheese recipe + bewitched wall
a real puppet catering order
serve apple juice spheres 699 times
serve jicama salad 599 times
serve pita salad bites 499 times
collect 15 chisels
collect 15 puppet strings
collect 12 wishing stars
reward : starry starry pie recipe + bewitched floortile
little red riding pup catering order
serve chicken bake 899 times
serve lamb and mint sauce 799 times
serve oyster rockefeller 699 times
collect 15 wolf fangs
collect 15 goody baskets
collect 12 grandma's nightdresses
reward : red berry pudding recipe + bewitched shelf