Cafe World new free gift flowers and dishes food 🙂 Thanks to zynga for adding a new free gifts in cafe world 😀
but… to bad the old free gift drinks was gone 🙁 and they said that the flowers are limited ? but they not mention when it'll be over…
Here's the official statement:
"Hiya chefs! Is it someone's birthday today? The holiday season? Something's got us in the spirit of giving a bit early this year. Check out all the new gifts you can send including dishes ready-to-serve, appetizers and limited edition flowers! Happy gifting!"
Here's the picture of all new free gift in cafe world :
How to get dishes ready to serve, appetizers, and limited edition flowers ?
You can get free gift if your friends/neighbors send it to you.


So you better send them one and maybe they will send you one 😀
How to use ready to serve dishes ?
Just like before, after you get the gift check the gift icon and click the ready to serve dish.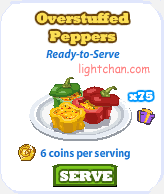 But make sure you have one counter free, because it will automatically served in the counter.


Cafe World New Free Gift List :
Ready to serve dishes
– Bacon Cheeseburger, serves 15
– Homestyle Pot Roast, serves 20 – unlocked at level 4
– Jumbo Shrimp Cocktail, serves 37 – unlocked at level 8
– Spaghetti and Meatballs, serves 40 – unlocked at level 12
– Tony's Classic Pizza, serves 50 – unlocked at level 16
– Voodoo Chicken Salad, serves 60 – unlocked at level 20
– King Crab Bisque, serves 50 – unlocked at level 28
– Kung Pao Stir Fry, serves 70 – unlocked at level 32
– Fiery Fish Tacos, serves 70 – unlocked at level 40
– Overstuffed Peppers, serves 75 – unlocked at level 44
– Impossible Quiche, serves 60 – unlocked at level 48
Appetizers
– Super Oatmeal Cookies
– Chai, unlocked at level 4
– Calamata Olives, unlocked at level 12
– Buttermilk Biscuits, unlocked at level 24
– Sourdough Bread and Butter, unlocked at level 36
– Lucky Fortune Cookie, unlocked at level 50
Flowers
– Blue Roses
– Orange Roses
– Pink Roses, unlocked at level 8
Flowers is only for decoration 🙂
Incoming search terms for the article:
free cafe world food
cafe world free food
cafe world free gifts
free cafe world gifts
cafe world free dishes
free cafe world dishes
free food for cafe world
cafe world free gift
cafe world free
free food cafe world