Create full-course feasts in cafe world new year feasts event for new year parties around the world !

Serve fantastic full-course feasts as you travel from east to west to greet the new year.
Customize your menu by choosing between 2 dishes for each course. Dishes in the same time course have the same cook time.
Earn decoration and dishes as you complete each day's feast. Finish the event in 7 days to earn a countdown 7 ultra stove, or in 9 days for a countdown 5x ultra stove !
Travel from east to west and create 7 different full-course feasts !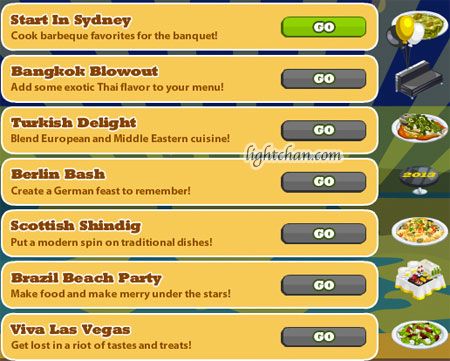 You will get rewards (dishes, spices, coins and XP) for each Event you complete. Complete all the meals before January 4th 4 am PST to win a 7x Ultra Stove or complete all the meals before January 6th, 4 am PST to earn a 5x Ultra Stove.
complete start in sydney to win chicken mascarpone wine
complete bangkok blowout to win party couch
complete turkish delight to win ginger sea bass
complete berlin bash to win party table
complete scottish shindig to win spicy asian penne
complete brazil beach party to win party food counter
complete viva las vegas to win beet goat cheese salad
Remember Basil Baker? He is back with great ideas for feasts to ring in the New Year in amazing style.


You will help Basil every day during the Event to cook a 7 course meal for each destination.
Basil needs your help to decide which dishes he will serve each day. Basil will present you with 2 different dishes for each course and it is your choice which dish you will cook.
First Course: appetizer
Second Course: soup
Third Course: salad
Fourth Course: sorbet to cleanse the palate
Fifth course: meat, such as poultry (Entree 1)
Sixth Course: meat, red meat or fish (Entree 2)
Seventh Course: dessert
You will have to select the dishes once you enter an Event. Once you selected your dishes you cannot change the dish you want to cook
On each day one Event will unlock, however if you served all dishes for the previous Event your next Event will automatically unlock.