There's a new 2012 ball icon on your cafe today ! it's time for cafe world new years bash party 2012 event !


there's a new buildable ice sculpture with new years party goals
here's how new years event works – pic thx to SmileyBears :
new years party
– Throw a successful new years party and you'll be rewarded a 4x lightning stove
– Invite friends and decorate your cafe to increase your party score !
– Complete daily challenges to unlock limited edition decor !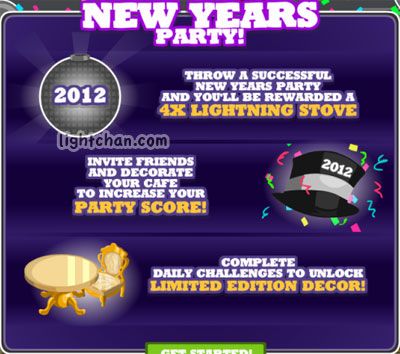 new year's bash


you can see the progress here :
– friends attending
– new years decor collected
– dishes unlocked
– new years catering bonus
– ice sculpture bonus
daily challenges
you need to serve dishes and collect items to unlock new food recipe and decoration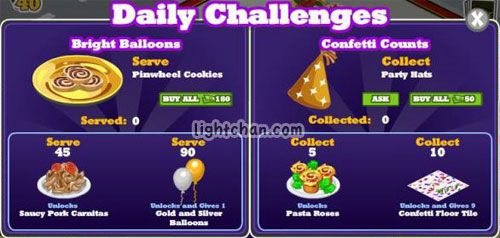 bright balloons – serve pinwheel cookies
unlocks : saucy pork carnitas + gold and silver balloons
confetti counts – collect pary hats
unlocks : pasta roses + confetti floor tile
gid :
5488 – Party Hats
5489 – Streamers
5490 – Glow Sticks
5491 – Limos
5492 – Umbrellas
5493 – Tiaras
5496 – Top Hats
deck the walls – serve 2-year anniversary cake
unlocks : chocolate bacon cookies + streamer wallpaper
it's official – collect streamers
unlocks : crab remoulade + happy new year banner
totally tubular – serve pumpkin stew
unlocks : summer pork lettuce wraps + bubble tube
collect glow sticks
unlocks : blackened sea bass + countdown clock door
party lights – serve beef brisket
unlockes : mahi mahi skewers + paper lamp
festival of lights – collect limos
unlocks : sausage flatbread + light show
boogie down – serve palisade cake
unlocks : apricot stuffed chicken + dance floor
dj cafe – collect umbrellas
unlocks : chicken cannelloni + dj booth
upper class upholstery – serve tony's classic pizza
unlocks : sweet tarter cornbread + vip chair
earn your spot – collect tiaras
unlocks : escarole rolls + vip table
classy counters – serve belgian waffles
unlocks : greek salad + vip counter
vip only – collect top hats
unlocks : steak aioli sandwich + vip stove
Incoming search terms for the article:
cafe world new years bash
cafe world new years party
cafe world 2012
new years bash cafe world
cafe world daily challenges
cafe world new years party goals
cafe world ice sculpture
cafe world new years goals
cafe world new year bash
cafe world 2012 new years bash