Looks like cafe world already prepared for new year's 2012 event ? though the christmas 'holiday' event still not over yet..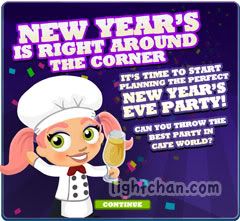 when you open cafe world today there's a new pop up screen
New Year's is right around the corner
It's time to start planning the perfect new year's ever party !
Can your throw the best party in cafe world ?
let's just hope there won't be there no more glitches, and new year's goals work better than these winterfest goals.
UPDATED : more information for the event in cafe world new year's bash
Incoming search terms for the article:
cafe world new years party goals
cafe world new years party
cafe world 2012