Complete the cafe world once upon a crime goals to win dishes, decor and stoves !


join the good fairy and wicked witch on a quest to restore balance to the land !
a thief abounds !
recover the good fairy's stolen wand and restore balance to the land
spellbinding tasks !
build to win two 6x mega stoves ! cater to win two 5x mega stoves !
fairy tale rewards !
finish the first 6 days for a 9x mega ! finish the event for a 9x ultra and upgrade the 6x megas to ultras !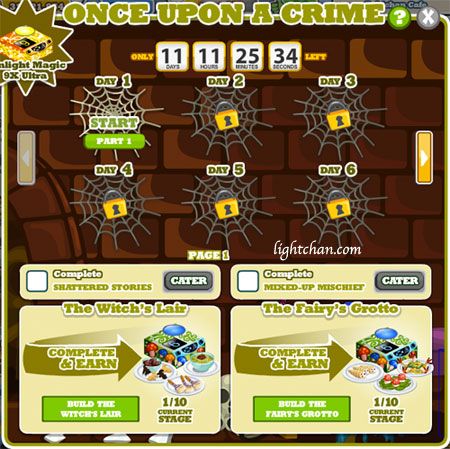 She's searched high and low, but the good fairy just can't find her magic wand. It's been stolen ! help her track down the thief !


quest : a grim crime goal
find the mischief-maker who stole the good fairy's magic wand and win dishes, decor and bewitching new stoves!
complete 2 catering order :
shattered stories
mixed-up mischief
finish 10 stage of these buildable parts to earn new dishes and enchanted forest 6x mega
the witch's lair
the fairy's grotto
once upon a time crime gid :
11568 Magnifying Glass
11569 Trails of Clues
11570 Witch's Trees
11571 Porridge Spoons
11572 Honey Jars
11573 Rapunzel's Combs
11574 Handsome Princes
11575 Golden Wigs
11576 Climbing Ivies
11577 Royal Beds
11578 Tool Belts
11579 Bricks
11580 Trowels
11581 Bookshelves
11582 Magic Ingredients
11583 Glass Slippers
11584 Wedding Gowns
11585 Royal Horses
11586 Bales of Gold
11587 Spinning Wheels
11588 Crowns of Pearls
11589 Golden Tridents
11590 Shell Combs
11591 Magic Herbs
11592 Bubbling Cauldrons
11593 Giant's Castles
11594 Beanstalks
11595 Golden Eggs
11596 Magic Harps
11597 Fairy Wands
Incoming search terms for the article:
cafe world once upon a crime