Cafe World One Year Anniversary is almost here ! Hiya Chefs! New dishes, new adventures, contests, prizes, huge deals and… Party hats?

cafe world anniversary
Café World's 1 Year Anniversary Celebration is starting next week! Make sure to play every day so you don't miss out on the fun !
Did you know that Cafe World's one year anniversary is coming up ?

A catering order with amazing rewards is coming soon ! Complete the existing catering orders so you're ready for this one !
you can see in the list of catering order there's already anniversary catering order 'coming soon'


the one year anniversary is coming soon, and it's going to be huge !
and if you go to cookbook you can find cafe world anniversary dishes !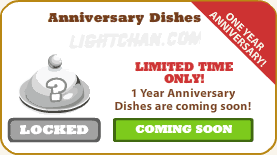 locked anniversary dishes in cafe world
limited time only ! 1 year anniversary dishes are coming soon !
Incoming search terms for the article:
cafe world anniversary
cafe world anniversary catering
cafe world anniversary dishes