Amelia found a hidden safe in your cafe,open the safe to earn amazing prizes ! start cafe world safe cracker goals now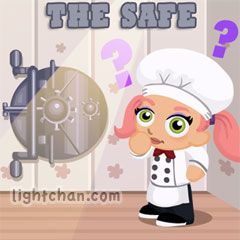 open the safe x3 times to claim all your prizes :
6 quest buster
20 instant thyme
4x 50% lightning stove
It's possible to work on multiple safe latches at once, try working on more than one latch to speed up your progress
Here are some frequently asked questions and answers to help you complete the Safe quest:
Can I have more than one Safe?
No, you can only have one Safe. You can either build or buy the Safe.
Will there be a timer on the Safe quest?
No, there will not be a timer on the Safe quest so you can play the game at your own pace.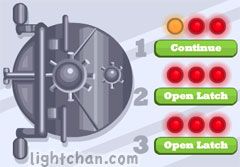 How many goals will there be?
It's a 27-step quest that is divided into three parts. You can continue to do the quests after the 27th to continue to earn rewards!
How many times can I unlock the Safe?
You can unlock the safe as many times as you want. The often you unlock the Safe, the greater the rewards. Keep in mind that once you claim your prize from the Safe, it closes and locks!
here are the requirements :
first latch :
part 1 : simple lock goal
– ask for 6 stethoscope
– ask for 5 flashlights
– serve 50 random dishes
part 2 : listen closely goal
– ask for 12 pen
– ask for 9 paper
– serve 80 random dishes
part 3 : got it goal
– ask for 17 reading glasses
– serve 100 random dishes
– serve 50 random dishes
second latch
part 1 : the metal curtain goal
– ask for 6 drills
– ask for 5 drill bits
– serve 60 random dishes
part 2 : electric eye goal
– ask for 14 borescope
– ask for 9 power cord
– serve 55 random dishes
part 3 : punch it goal
– ask for 17 punch rod
– serve 140 random dishes
– serve 100 random dishes
third latch
part 1 : the relockers goal
– ask for 7 gloves
– ask for 6 screwdrivers
– serve 100 random dishes
part 2 : heat it up goal
– ask for 14 blowtorch
– ask for 10 construction lights
– serve 90 random dishes
part 3 : crack it goal
– ask for 18 plasma cutter
– serve 50 random dishes
– serve 50 random dishes
here are the gid for the safe cracker, but it's not working.. dunno why.. i'm still checking maybe you need to ask manually this time 🙁
5689 – Flashlight
5690 – Stethscope
5691 – Pen
5692 – Paper
5693 – Reading Glasses
5694 – Drill
5695 – Drill Bits
5696 – Power Cord
5697 – Punch Rod
5698 – Measuring Tape
5699 – Pencil
5700 – Borescope
5701 – Construction Lights
5702 – Glassses
5703 – Gloves
5704 – Screwdriver
5705 – Blowtorch
5706 – Plasma Cutter
5707 – The Safe HUD
new recipes you can unlock from this quest are :
– baked brie
– breakfast casserole
– crispy rainbow trout
– deviled eggs
– hot milk cake
– hummus
– london broil
– stuffed portabellas
– turkey legs
Incoming search terms for the article:
cafe world safe cracker
cafe world the safe
cafe world safe
the safe cafe world
cafe world safe goals
cafe world open the safe
safe cracker cafe world
cafe world safe cracker goals
cafe world simple lock
cafe world safecracker