Get fabulous prizes ! use the red phone booth to gather your travel buddies and get double travel pass so you'll have a bigger chance to win Cafe World 2 Year Anniversary Sweepstakes! also finish 3 cafe world phone a friend goals
Thank God this item is NOT buildable 😛 you only need to ask your friends to respond your post on their wall


Call up travel buddies with your new Red Phone booth and get a bonus on the travel passes you earn!
requirements :
part 1: phone a friend 1 goal
– place red phone booth
– serve 12 biscuits of tomorrow
– call 3 friends from your phone booth
get enough friends and you can double the amount of travel passes you earn instantly!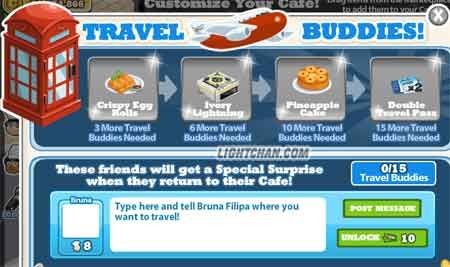 as you can see with the red phone booth you can post message to your friends wall and ask to become a travel buddies, and these friends will get a special surprise when they return to their cafe!
rewards for calling travel buddies :
– crispy egg rolls
– ivory lightning
– pineapple cake
– double travel pass
part 2: phone a friend 2 goal
– call 6 friends from your phone booth
– spice 10 neighbors' stoves
– serve 10 napoleon's napoleon
part 3: phone a friend 3 goal
– call 10 friends from your phone booth
– spice 10 neighbors' stoves
– serve 15 basil finger sandwiches
Incoming search terms for the article:
cafe world phone a friend
cafe world travel buddies
phone a friend cafe world
cafe world phone booth
travel buddies cafe world
cafe world phone a friend goals
cafe world telephone
Phone a Friend 1 cafe world
cafeworld phone a friend
cafe world phone a friend goal