Complete the Cafe World Puppy Surprise Goals quest line to win a 4x Mega Stove!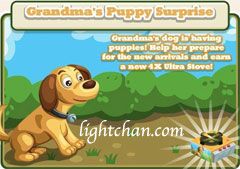 Grandma's dog is having puppies ! Help her prepare for the new arrivals and earn a new 4x ultra stove !
requirements :
part 1: puppy surprise goal
– place your puppy surprise 4x mega stove
– serve 20 random dishes
– ask for 3 dog tags
like you guess the gid won't work anymore 🙁 here's the official statement on the forum :
"At the Café World studio it has been our continuous endeavor to make the game more enjoyable for all our players. This can only happen if the playing field is level – everyone plays by the same rules. Recently we discovered a bunch of third party tools/ websites that were exploiting parts of our game. Some players have used these tools to progress through the game faster than others. This is unfair to the majority of our players and we will spare no effort in plugging these exploits.
We understand that some of the tasks in the game might be difficult for a few players and this may have been the reason why they resorted to these third party tools. We will make sure that from our end we make this beloved game as playable and aspirational as possible – for all players.
We deeply care for Café World and its players and look forward to suggestions from the community to make the game better.
Thanks, The Cafe World Team"
Incoming search terms for the article:
cafe world puppy surprise