Buck Bradshaw is here with the Cafe World Sapphire 7x Ultra Stove Goals ! find the icon of blue stove and start to completing all the goals to place, finish burner and ultra upgrade from mega stove 🙂

as usual there are stove shop and catering orders that you can complete, the rewards are azurite 4x ultra stove and 3 new 'blue' dishes !
place sapphire mega stove and start adding burners !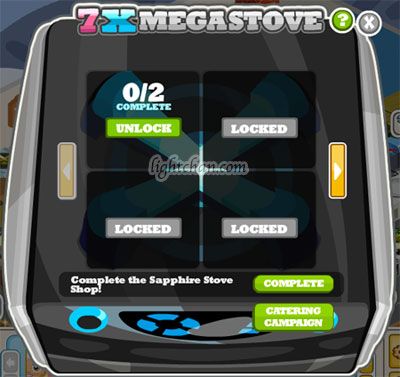 sapphire stove gid :
11086 Sapphire Metal Plates
11087 Sapphire Bolts
11088 Sapphire Circuits
11089 Sapphire Displays
11090 Sapphire Gas Pipes
11091 Sapphire Control Knobs
11092 Sapphire Handles
11093 Sapphire Drip Pans
11094 Sapphire Heating Coils
11095 Sapphire Burner Rings
11096 Sapphire Motors
11097 Sapphire Thermostats
11098 Sapphire Switches
11099 Sapphire Wiring
11100 Sapphire Hard Drives
11101 Sapphire Tubes
11102 Sapphire Master Knobs
11103 Sapphire Ultra Cranks
sapphire stove shop
maintain your new sapphire stove and finish all 10 stages to earn spices and complete your azurite 4x ultra stove !


parts to collect :
11068 Sapphire Canister
11069 Sapphire Multi Tool
11070 Sapphire Hammer
11071 Sapphire Nuts and Bolts
11072 Sapphire Stove Polish
11073 Sapphire Scrub Brush
Campaign orders ! Select a catering order for sapphire stove :

Sapphire Trade Show Catering Order
serve basil finger sandwiches 699 times
serve cheesy chicken bake 599 times
serve spitfire roasted chicken 499 times
collect 20 drink umbrellas
collect 28 tiki cups
collect 24 tiki torches
reward : blue velvet layer cake
Sapphire Infomercial Catering Order
serve chocolate cream pie 999 times
serve no lie cherry pie 999 times
serve crunchy stuffed figs 999 times
collect 20 citronella candles
collect 28 grass skirts
collect 24 orchid leis
reward : blue cheese charlotte
Sapphire Release Party Catering Order
serve baklava 999 times
serve eggs benedict 999 times
serve pumpkin pie 999 times
collect 20 partable grills
collect 28 seashell centerpieces
collect 24 bags of charcoal
reward : blue hawaiian jelly