Cafe World Sous Chef Crew – hire a cref of line cooks and assistants to help your sous chef in the kitchen !
a sous chef needs able assistants to help him in the kitchen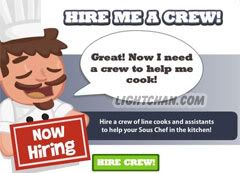 ask for friends help to join your crew for 7 days, well this is also the requirement for hire a chef's crew goal
complete your crew and with 1 click the sous chef will cook a dish on all your stoves :
chefs :
– fish chef
– roast chef
– grill chef
– fry chef
assistants :
2 kitchen assistant
after all position filled you can click complete crew to stat training and obtain training certificate
there's a small problem, some players said that to hire 2 assistants have to be "new" players the other sous chefs can be regular players. But NO, they do not have to be new players, if you click "All Friends" underneath "Hire Friends", ALL of your friends' names show up and you can pick regular CW players.
or you can buy with cafe cash with a total 26 cash and you will see zynga crew for each position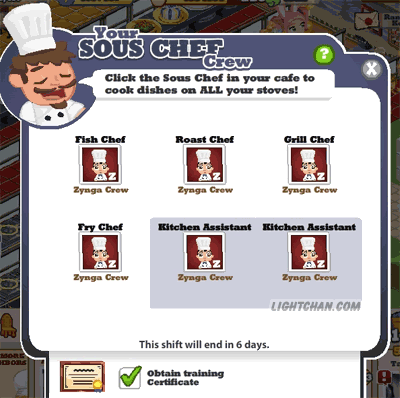 Beaver Stickle sous chef crew
see when this shift end on this pop up
Incoming search terms for the article:
cafe world sous chef
Cafe World Sous Chef Crew
sous chef cafe world
sous chef crew
sous chef crew cafe world
cafe world hire a chefs crew
cafe world sous chef assistants
kitchen assistant cafe world