Cafe World Sous Chef Guide ! Please welcome Sous Chef Remy! With the Sous Chef, you can cook the same dish on all your stoves with one click! Start building him today!
after you finish with cafe world build a sous station goal you will be rewarded with access with sous chef, now in order to 'build' it you only need to hire crew 🙂
hire chef's crew
get your friends to help ! you crew works for 7 days, then can be re-hired
train chef's crew
train your crew before using chef remy, complete goals to obtain a training certificate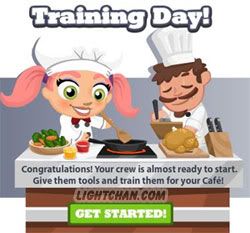 1-click cooking
click the sous chef to place a dish on all stove with just 1 click !
i believe that the maximum stoves on cafe world are 30 stoves, so you won't need to click it one by one if you want to use sous chef
you can choose recook on stoves or cook a new dish to get all your stoves cook !
remember that you only have 7 day to use it and re-hired your crew back
nice feature and it really helpful, i don't know about you guys… but some players prefer clicking on their stoves rather then hire 6 friends for 7 days 😛
Incoming search terms for the article:
sous chef cafe world
cafe world sous chef
cafe world sous
Cafe World Sous Chef Crew
cafe world sous chef goals
cafe world sous him
sous chef crew cafe world
sous chef remy