Cafe World Specialty Cookbooks ! look at your cookbook and see the specialty tab

there's a new update soon ! since the cookbook mastery – cooking mastery available on cafe world now we need to prepare for specialty cookbooks.
what is specialty cookbooks on cafe world ?
soon you will be able to unlock specialty cookbooks from around the world by mastering themed dishes. Pick dishes wisely because what you cook maters !
as you can see in the specialty tab there's a world map with country flags available for some countries.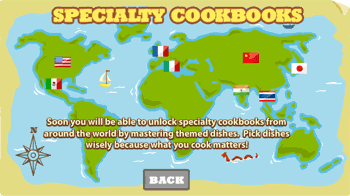 there are 8 countries flag on specialty cookbooks
and now on the cookbook you can see the icon on the top left side on your dishes.
the themed dishes that available with country flag are :
China dish
white radish cake
crackling peking duck
kung pao stir fry
shu mai dumplings
chinese candy box
France dish
french onion soup
impossible quiche
India dish
tika masala kabobs
grand tandoori chicken
lavish lamb curry
Italy dish
spaghetti and meatballs
tony's classic pizza
Japan
cashu ramen
sushi spread
Mexico dish
chips and guacamole
chicken adobo
tostada de carne asada
fiery fish tacos
Thailand dish
USA dish
homestyle pot roast
clubhouse sandwich
savory stuffed turkey
macaroni and cheese
chicken pot pie
corned beef
Incoming search terms for the article:
cafe world specialty cookbook
cafe world specialty
cafe world speciality
specialty cafe world
Cafe World Specialty Cookbooks
specialty cookbooks cafe world
cafe world speciality cookbook
speciality cafe world
cafe world advanced cookbook
cafe world cookbook specialty