Cafe World Spices is here 🙂 Have you completed spice rack on cafe world ?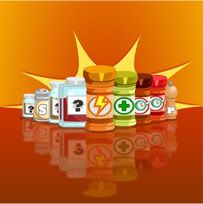 spices on cafe world
After you have shelves, small jars, medium jars, large jars and lids completed you may find the Spice Rack in the customize – windows. Placed it on your cafe 🙂
open the spice rack and you will see Exotic Spices
you received a crate of spice but need a friend to help you open it to start using them.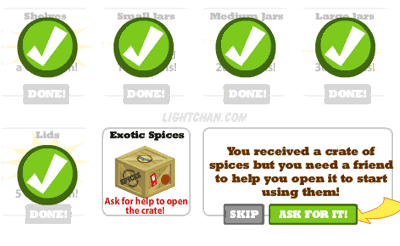 cafe world spice crate
click ask for it, and it will post to your walls.



You will need a friend to click the help button, yup just a friend !
now open the spice rack again, you will see a pop up
"Your spice shipment has arrived ! Spice can speed cook times, add extra servings, unspoil and more!"
open spice rack ! and you can see 2 tab in it : spice rack and spice market

choose "Use it" to sprinkle on food while cooking.
These are the Spices and the effect :
Mystery Spice : mystery effect
Onehour Thyme : speed cooking time by 1 hour
Super Salt : Adds 5 percent more servings
Sixhour Thyme : Speeds cook time 6 hours (You can use on dishes less than 6 hours)
Power Pepper : Adds 10 percent more servings.
Instant Thyme : Makes a dish instantly ready.
Salvage Sage : Removes spoil from a dish.
You may use spices on a dish that is in the process of cooking and you may use more than spice on a dish.
You can also click "get more spice" or "get more" to ask your friends for spices
do you happy with cafe world spices ?
Incoming search terms for the article:
cafe world spices
cafe world spice crates
how to open spice crate in cafe world
how to get more spices in cafe world
cafe world spice crate
how to get spices in cafe world
spices cafe world
removes spoil from a dish
cafe world spice
instant thyme