Cafe World Subway Breakfast ? breakfast is no time to be boring, build a breakfast your customers will love ! hurry, they are available for a limited time only !

you may already noticed that there's a new goal for subway breakfast (see it in cafe world breakfast express goals ), wow your customers with new breakfast options ! complete the limited- time breakfast express goals to earn 2 specialty breakfast recipes for your toaster oven
but some players got different requirements for breakfast I & II goal
in breakfast express I as you can see some players need to serve deluxe breakfast melt, while others serve sunrise subway melt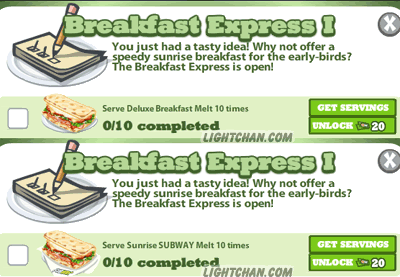 with the same number though 🙂
try to look on your cookbook > breakfast cuisine, what do you see on the first page ?



is it deluxe breakfast melt + ham & sandwhich ? or sunrise SUBWAY melt + black forest ham, egg & cheese ?
i don't know why but there's a 'subway breakfast' logo for different dishes, though the cooking time and price are the same 😛 no explanation from zynga so far
well, it's not really a big problem because you can get the same rewards on part 4 & 6 :


– grilled cheese sandwich
– corque monsieur
images special thx to di's mingle 🙂
Incoming search terms for the article:
cafe world subway
cafe world subway goals
subway cafe world
subway breakfast
subway goals cafe world
breakfast express cafe world
cafe world deluxe breakfast melt
cafe world breakfast express
deluxe breakfast melt cafe world
cafeworld subway