Cafe World Sunday Brunch Catering Order ! you can unlock this mission by finishing Grandpa's BBQ on cafe world with 2 stars rating 🙂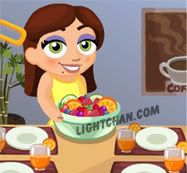 cater sunday brunch !
cater a scrumptious brunch for friends and family ! this mission is just like grandpas bbq, but easier ! you will need to cook and get item requests from friends.
serve eggs benedict 195 times or buy with 16 cafe cash
serve lox bagel 195 times or buy with 14 cafe cash
serve belgian waffles 120 times or buy with 12 cafe cash
serve powdered french toast 120 times or buy with 8 cafe cash
collect 10 bottles of maple syrup or buy @ 2 cafe cash
collect 15 servings baskets or buy @ 1 cafe cash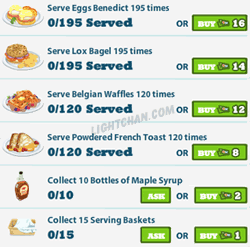 Sunday Brunch Crew Size :
you can 21 friends to join cook the catering order, the total crew size 22
The time limit for three stars: 3 Days
Sunday Brunch 3 Stars Reward :
– 4158 CP
– 62370 Coins
– next order unlocked (not available yet – coming soon)
– Banana Nut Muffin recipe
Incoming search terms for the article:
cafe world sunday brunch
sunday brunch cafe world
sunday brunch
cafe world catering sunday brunch
cafe world sunday brunch order
cafe world sunday brunch catering
sunday brunch catering order
cafeworld sunday brunch
cafe world brunch
cafe world sunday brunch catering order