Discover baby chai's special date in these new event : cafe world sweet valentine goals


date hunt ! who will baby chai choose for a date this valentine's ?
couples' day out ! build to win two 6x mega stoves ! cater to win two 5x mega stoves !
romantic rewards ! finish the event to win two 9x ultra stoves and upgrade the 6x megas to ultras !
valentine's day 2013 event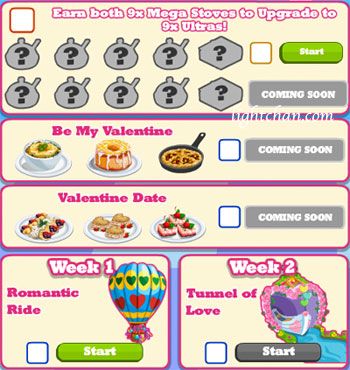 earn both 9x mega stoves to upgrade to 9x ultras !
complete valentine's day plans to win new dishes and a sating lace mega stove !
2 catering order :
– be my valentine
– valentine date
week 1 : romantic ride
buld a romantic hot air balloon and get these rewards :
– homestyle chili recipe
– zesty pepper steak recipe
– berry treasures recipe
– candy heart 6x mega stove
parts :
11777 balloons
11778 basket
11779 string
11780 burner
11781 gas pipe
11782 rope
week 2 : tunnel of love
Incoming search terms for the article:
cafe world sweet valentine
sweet valentine cafe world