Cafe World Thanksgiving Extravaganza ! these special events are coming soon !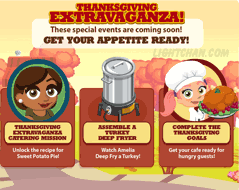 thanksgiving extravaganza on cafe world
get your appetite ready to do these 3 thanksgiving things :
1. thanksgiving extravaganza catering mission
unlock the recipe for sweet potato pie !
2. assemble a turkey deep fryer
watch amelia deep fry a turkey !
3. complete the thanksgiving goals
get your cafe ready for hungry guests !
so far only thanksgiving catering mission coming soon, the other 2 already out 🙂 finish turkey deep fryer is one of the mission for thanksgiving goals on cafe world so good luck guys !
Incoming search terms for the article:
cafe world thanksgiving goals
cafe world thanksgiving
cafe world sweet potato pie
cafe world thanksgiving extravaganza
thanksgiving extravaganza cafe world
thanksgiving extravaganza
cafe world thanksgiving catering
thanksgiving goals cafe world
sweet potato pie cafe world
thanksgiving catering cafe world