Cafe World Today's Free Gift, there's been a changed for the free gift on cafe world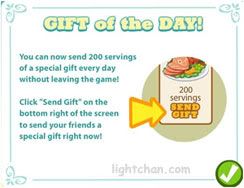 Gift of the Day!
You can now send 200 servings of a special gift every day without leaving the game!
Click "Send Gift" on the bottom right of the screen to your friends a special gift right now!
Yup you can see it on the neighbor list, there's "Today's Free Gift"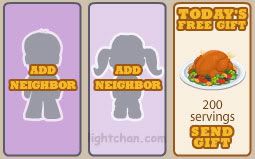 click send gift and you can send it to your neigbors 🙂
too bad you can only send to 24 friends daily…
Incoming search terms for the article:
cafe world free gifts
free gift cafe world
free cafe world gifts
free gifts cafe world
cafe world free gift
cafe world todays free gift