The vip customers are coming ! soon they will eat at your cafe and bring big rewards, fill up your star wall with their photos !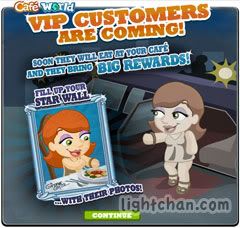 you wont' find any cafe world vips goals for now, because to get premier access to vips you must buy with 39 cafe cash


and you'll get a free vip amphitheater
but thanks to Trina for the vips quest requirements :
part 1: Welcome Goal
PLACE VIP Table (use cafe world vip table links to send parts faster)
COMPLETE VIP Table
ASK 10 Red Cayenne Pepper
gid thanks to di 🙂
4864 – Red Cayenne Pepper
4865 – Secret Paparazzi Invite
4866 – Velvet Rope
4867 – Flash Bulb
4868 – Taco Spice
4869 – Colby Cheese Block
4871 – Flashy Diamond
4872 – Red Lace
4873 – Velvet Handkechief
4874 – Rose Bud
4875 – Satin Bandana
part 2: Serving VIP's Goal
COLLECT 8 Paparazzi Invites
Collect 8 Velvet Ropes (feed Post)
SERVE 8 Royal Feast
part 3: Serve 1 VIP Goal
COMPLETE 1 VIP Goal
COLLECT 12 Flash Bulbs
SERVE Fruit Punch 8 Times
part 4: First Reward Goal
ASK 10 Taco Spice
SERVE 40 Carmel Apples
COllECT 10 Colby Cheese Blocks (feed Post)
UPDATE :
How long does it take for the next VIP quest to appear ?
If you purchased the VIP early access, you can play through all of the VIPs without waiting. If you did not purchase the early access feature, you have to wait 24 hours for the next VIP to appear.
more VIP-a-thon requirements :
Scene 1, Taco 2 goal (this is to master goal 3 Serve VIP)
COLLECT 8 Paparazzi Invite
SERVE 30 Carmel Apples
COllECT 10 Flashy Diamonds
Reward: Deconstructed Taco + Random Spice + 500 Cafè Points
The A list Goal (part 1 of goal 4)
COLLECT Secret Paparazzi Invite
MASTER Deconstructed Taco to Level 1 (10 to master level 1)
ASK 10 Red Lace
Reward: Random Spice + 500 Cafè Points
Lights, Camera Goal part 2 of goal 4
COLLECT Secret Paparazzi Invite
MASTER Deconstructed Taco to Level 2 (10 to master level 2)
ASK 10 velvet handkerchief
Reward: Cocoa Cayenne Cupcake + Random Spice + 500 Cafè Points
Flashing Lights Goal part 3
COLLECT 10 Secret Paparazzi Invite
MASTER Cocoa Cayenne Cupcake to Level 1 (10 to master level 1)
SERVE any Signature Dish 40 times
Reward: Random Spice + 500 Cafè Points
Flashbulb Goal part 4
COLLECT 10 Secret Paparazzi Invite
MASTER Cocoa Cayenne Cupcake to Level 2 (10 to mastery)
ASK 10 Rose Bud
Reward: Hot & Cold Tomato + Random Spice + 500 Cafè Points
Box Office Hit Goal
Ask for 11 Secret Paparazzi Invites
Master Hot & Cold Tomato to Level 1
Ask for 11 Satin Bandana
Reward: Random Spice + 500 Cafè Points
Frankly, My Dear… Goal
Ask for 11 Secret Paparazzi Invites
Master Hot & Cold Tomato to Level 2
Ask for 11 Flashy Diamonds
Reward: Fennel Sausage Dog + Random Spice + 500 Cafè Points
Frank Acting Goal
Ask for 11 Secret Paparazzi Invites
Master Fennel Sausage Dog to Level 1
Serve any Signature Dish 40 times
Reward: Random Spice + 500 Cafè Points
Rising Star Goal
Ask for 11 Secret Paparazzi Invites
Master Fennel Sausage Dog to Level 2
Ask for 11 Red Lace
Reward: Steak Tartare + Random Spice + 500 Cafè Points
DVD Release Only Goal
Ask for 11 Secret Paparazzi Invites
Master Steak Tartare to Level 1
Ask for 11 Velvet Handkechief
Reward: Random Spice + 500 Cafè Points
DVD-Only Goal
Ask for 12 Secret Paparazzi Invites
Master Steak Tartare to Level 2
Ask for 12 Rose Buds
Reward: Heirloom Tomato Salad + Random Spice + 500 Cafè Points
Cut Scene Goal
Ask for 12 Secret Paparazzi Invites
Master Heirloom Tomato Salad to Level 1
Serve any Signature Dish 40 times
Reward: Random Spice + 500 Cafè Points
That's a Wrap Goal!
Ask for 12 Secret Paparazzi Invites
Master Heirloom Tomato Salad to Level 2
Ask for 12 Satin Bandana
Reward: Prosciutto Melon Wraps + Random Spice + 500 Cafè Points
Tabloid Mania Goal
Ask for 12 Secret Paparazzi Invites
Master Prosciutto Melon Wraps to Level 1
Ask for 12 Flashy Diamonds
Reward: Random Spice + 500 Cafè Points
Olive the Gossip Goal
Ask for 12 Secret Paparazzi Invites
Master Prosciutto Melon Wraps to Level 2
Ask for 12 Red Lace
Reward: Olive orecchietta + Random Spice + 500 Cafè Points
Olives Baby Goal!
Ask for 13 Secret Paparazzi Invites
Master Olive orecchietta to Level 1
Serve any Signature Dish 40 times
Reward: Random Spice + 500 Cafè Points
Pizza Recgonition Goal
Ask for 13 Secret Paparazzi Invites
Master Olive orecchietta to Level 2
Ask for 13 Velvet Handkerchief
Reward: Fig Feta pizza (1 day) + Random Spice + 500 Cafè Points
Special Screening Goal
Ask for 13 Secret Paparazzi Invites
Master Fig Feta pizza to Level 1
Ask for 13 Rose Buds
Reward: Random Spice + 500 Cafè Points
Hasta la Ceviche Goal
Ask for 13 Secret Paparazzi Invites
Master Fig Feta pizza to Level 2
Ask for 13 Satin Bandana
Reward: Tuna Ceviche (1 day) + Random Spice + 500 Cafè Points
Method Actor Goal
Ask for 13 Secret Paparazzi Invites
Master Tuna Ceviche to Level 1
Serve any Signature Dish 40 times
Reward: Random Spice + 500 Cafè Points
Stage Cardamon Goal
Ask for 14 Secret Paparazzi Invites
Master Tuna Ceviche to Level 2
Ask for 14 Flashy Diamonds
Reward: Peach Cardamon Tart (2 days) + Random Spice + 500 Cafè Points
All of the Lights Goal
Ask for 14 Secret Paparazzi Invites
Master Peach Cardamon Tart to Level 1
Ask for 14 Red Lace
Reward: Random Spice + 500 Cafè Points
Incoming search terms for the article:
cafe world vip goals
vip goals cafe world
CAFE WORLD VIP GOAL
vip goals
cafe world vip
light chan vip goals
vip goals in cafe world
flashing lights cafè world
cafe world flashing lights
cafè world vip table