In cafe world did your waiter not serving food to some customers, even there's a lot of dishes on the counters ?
Customers sitting at table and being ignored by the waiters? The waiter just stand there and do nothing !
And you're wondering if the waiter lazy or stupid 😛
If you let a customer down, your buzz rating is going down (you can see Cafe World Buzz Rating Drop) and you'll lose money 🙁
So you must remember to allow the waiter to walk or reach a free side or corner of a customer table
Here's some picture :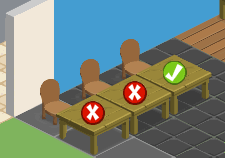 The customers can't even sit for those 2 chairs, because there's no way in to that chair. so the only one the waiters serves is the table with customers on the right. Try not to put chair's with wall, with no spaces.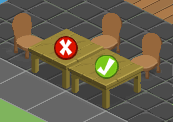 one table for 2 chairs won't work, because waiters only give 1 food for 1 customer with that table.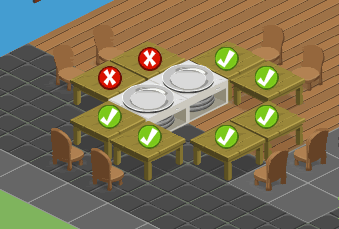 Try not to put some tables in front of a counter, because in some cases the waiter won't served the customers on that table.

When set some table facing each other you should make a space for the table, so the waiters can 'reach' the table. This also a must even if you trapped your waiter / fast serving 🙂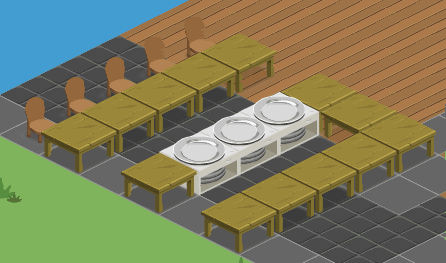 If you use the fast serving layout, sometimes the waiter won't serving the food because the waiter so picky for some counters even though there're many food in some counters.
To solve this you can do this :
– rearrange your counters
– use all available waiters
– make sure all counters full with dishes
i hope this will help you all 😀
if you still have some problem you can post a picture, so i can see your layout 🙂
Incoming search terms for the article:
cafe world waiters not serving
cafe world waiters
cafe world waiter not serving
cafe world servers not serving
cafe world waiter
cafe world not serving
cafe world customers not being served
how to serve food in cafe world
cafe world waiters just stand there
cafe world waiters not working