Complete the cafe world who you gonna call goals to earn new dishes and a spider web 4x mega stove !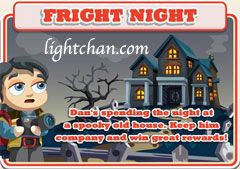 dan's spending the night at a spooky old house ! keep him company and win great rewards !
new dishes from fright night missions :
Caramel Peach Melba
Apple and Corn Bread
Minty Carrot Salad
Tex Mex Tacos
walkthrough guide :
part 1: who you gonna call goal
– serve 25 random dishes
– serve 25 random dishes
– ask for 6 sleeping bags
fright night gid :
9817 Sleeping Bags
9818 Brochures
9819 Food Containers
9820 Cellphones
9821 Camcorders
9822 Flying Foxes
9823 Thermoses
9824 Candles
9825 Broken Windows
9826 Breakfasts
quest 2: And Old Haunt
quest 3: Up all Night
quest 4: House of Boos
quest 5: Jeepers Creepers
quest 6: Fright Night
quest 7: Evil Fed
quest 8: Night Shades
quest 9: Haunted Happenings
quest 10: Red Dawn
How much time will I have to complete Fright Night?
The quest will be available for you until November 6th, 11:59 pm PST.
What will I be rewarded with if I complete the quest?
If you complete the quest until November 6th, 11:59 pm PST, you will receive a Spider Web 4x Mega Stove. Your stove will be automatically added to your inventory, under Functional.
I have started the quest but cannot see my Stove anywhere.
You will receive the complete Stove with 4 burners when you complete the quest.
Will I have to complete a buildable to receive the 4x Mega Stove?
All you have to complete to get the Spider Web 4x Mega Stove are the goals for the quest.
So, besides the Stove, what else can I earn?
As always, Café Points, Coins and amazing new dishes for your improved Cookbook.