Captain Super Stove Cafe World ! a new functional statue Hiya Chefs! It's a plate! It's a stove! No, it's CAPTAIN SUPER STOVE!

Cafe World Captain Super Stove
Remove the ingredient steps from cooking and make all your stoves ONE-CLICK super stoves! You will keep all your stoves, but he will make them one-click super stoves. Buy him or ask your friends for help to build him.
Upgrade your decorative stoves ! Ask your friends to help you assemble Captain Super Stove ! Place and finish this item in your Cafe and all your stoves will have one-click cooking for one week
go to functional – special items, you will find 2 captain super stove


choose build it and put it on your cafe
you will need to collect captain super stove parts :
12 afterburner grills
12 poly-steel planting
12 carbon chips
14 turbo tech knobs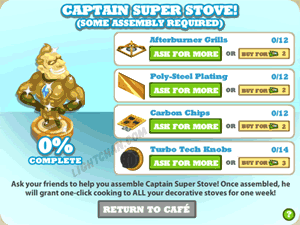 after 1 week, to keep his special powers we must pay 20 cafe cash every week !
err.. i don't like it if we must spend 20 cafe cash to charge him 🙁 i prefer to build lightning stove using cafe world lightning stove links to build faster 🙂 what about you ?
Incoming search terms for the article:
captain super stove
captain super stove cafe world
cafe world captain super stove
captain stove cafe world
cafe world captain stove
cafe world lightning stove cheat
captain stove
cafe world captain super stpve cheat
captain stove in cafe world
what does captain super stove do